ALLENSPARK SCHOOL IN 1960
THE BACKGROUND PICTURE IS MT. MEEKER ON THE LEFT & LONGS PEAK ON THE RIGHT!
The Sheppard Family arrived in Allenspark in 1959. As you can see from the picture, there are four of us, but that was just a start. There were more to come later! The Old Allenspark School is located about 1 block east and 1 block south of the Post Office and was painted Pink, of all colors to choose, and consisted of one large room. The room could be divided by a large curtain. The school was made of logs and, as I remember stayed fairly warm in the winter. Mrs. Miller (killed in an airplane crash in 1961) was the main Teacher and Mrs. Carter was more or less a helper. We went through plenty of teachers and helpers over the years as we "hillbilly kids" were pretty onery!! I hope to add a picture of the outside of the school if I can find one! Can you help?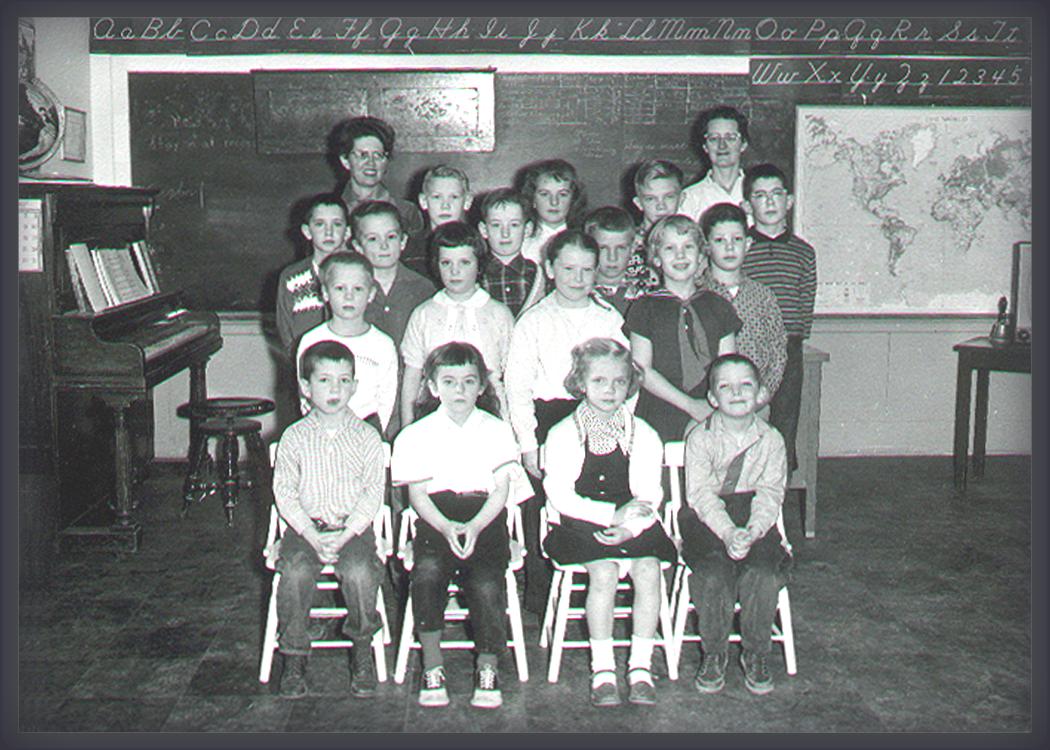 CLICK PICTURE TO ENLARGE

STARTING FROM TOP LEFT
TEACHERS: Mrs. Carter Mrs. Miller
John Carter Bliz Sheppard Patty Belg Leonard Ewy Vaughn Carter
Lee Sheppard Danny Belg Don Ewy Bergh Walter
Earl Sheppard Laura Walter ?????? Diane Sheppard
David Carter Debbie Belg Leslie Ewy Burt Walter
---
CLICK HERE TO VIEW 1961 SCHOOL PICTURE
CHECK OUT THE ALLENSPARK REUNION 2009
HOME